Changing Site Menu Layout
Changing Site Menu Layout
You can set your site navigation menu's orientation to a horizontal or vertical layout. You can also further customize the layout to fit your needs.

Changing site menu layout:
1. Click on your site menu to open the Menu customization panel.
2. Click Change Design.
3. A list of the available menu styles for the selected orientation (horizontal or vertical) will be displayed. Click on the layout you want to use.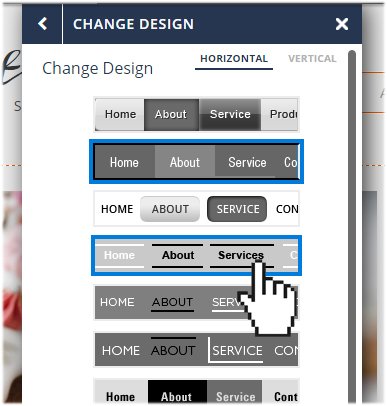 Changes are auto-saved and will apply automatically.

NOTE: If your website uses a vertical site menu layout, and you have enabled password-protection or site member login on your web page(s), you may experience a misalignment of the vertical menu bar and the password-protection login panel. In this case, we recommend changing the site menu layout to the horizontal menu design.