Managing Your Images (File Manager)
Managing Your Images (File Manager)
All images you upload to your Website.com Editor will be stored in the Image folder in your File Manager. You can access the Image folder from your Website.com Editor.
1. From the left menu of the Editor, click File Manager.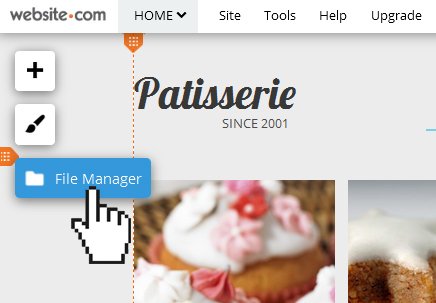 All uploaded files will be stored in your File Manager for easy access and management.
For example, you can upload an image to your File Manager and use it on your web page, or you can upload a PDF file and link it from any of your web pages. When you no longer need the file(s), you can easily delete them from your File Manager.
Your File Manager stores and categorizes your files based on the file type: images, audio, video and documents. You can create folders within each file type category for better management.